SEMC Re-opening Access Policies 2021
NYSBC 
SEMC

ramp-up plans – 2021 access 
1. 

Krios

 operations – remote sessions
Users may contact their institutional representatives for their institution's schedule and session assignments.
SEMC will continue remote operations for our autoloader systems where a

SEMC

operational staff member will remotely collect data for users. To coordinate with operators users may email, and if helpful setup phone calls/video conferences, with the operations team at emg [at] nysbc.org.

A reminder 

we are under COVID-19 operations where we have reduced staff onsite

. We will make our best efforts, but business hours are 9am-5pm and we do not have on-site staffing during weekends and holidays. If you are in need of additional time you may always submit grids for rapid access.

To maintain social distancing, grid drop-off will be done through our sample receiving table. To accommodate this traffic flow we'll accept grids 5 weeks ahead of an assigned session up to the Wednesday 1 week ahead of the

Krios

 session.

Krios

loading will be at the start of the week on Monday and we want to make sure our autoloader inventory is locked the Friday before. Therefore, the Wednesday final cut-off for unclipped grids gives us a couple of days buffer time for grid processing.
We aim to load 2 users in a cassette and we will guarantee up to 2 grids per 

Krios

day (a total of 4 grids for a 2-day session). We are waiving the clipping fee for up to 2-grids/day. Most likely we'll have room for additional grids, but it is not covered. We recommend users drop off no more than 2 grid boxes/buttons maximum per 

Krios

 session.
At the end of the session, grids will be kept for up to 2 weeks. Users may make an appointment to pick up grids. At the sample receiving table, there will be a section for grid pick up where a staff member will place the grid boxes in a designated 0.5 L dewar.
Our schedule has built-in buffer time for rapid access and we are accepting grids if you have Krios-ready samples for the queue. Email emg [at] nysbc.org to setup a drop-off appointment.
Krios data collection – Krios Grid Dropoff Form
2. Screening microscopes – remote sessions
At a limited capacity, 

SEMC

can assist with sample screening. The minimum block of time will be a 1-business day staff assisted session.
For now, a 

SEMC

operator will remotely do data collection on this microscope for users. The schedule curated by SEMC staff will be first come first served by user request. If we find that demand is high and users are experiencing long wait times we will then start allocating time more similarly to

Krios

allocations. In this case we'll contact your institutional representative to assist with session assignments.
We have a beta version of Leginon Remote that allows web-based targeting by the user. For screening sessions, we may also utilize this software.
To arrange a grid drop off appointment and enter this queue email emg [at] nysbc.org .
Glacios screening queue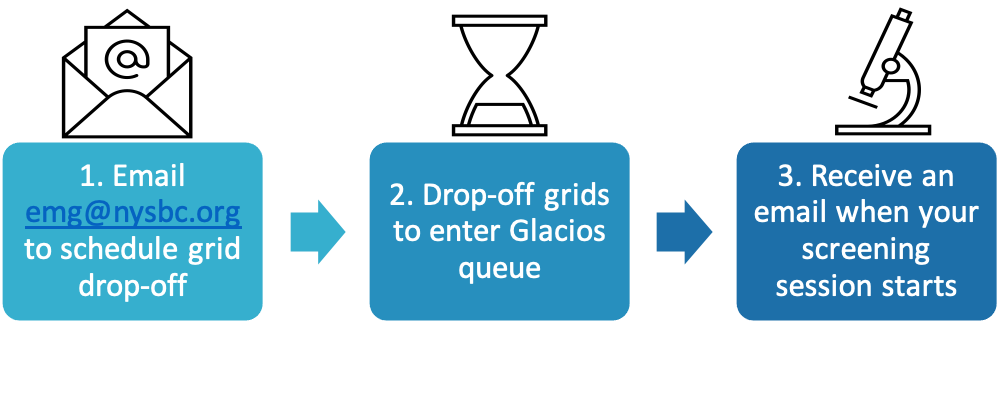 Email emg[at] nysbc.org to schedule a drop-off and attach the Glacios Grid Drop-Off Form.
Please specify on the form if you are screening for:

 an upcoming Krios session that has a scheduled date (rapid screening)
screening for grid quality (moderate screening)
data collection (detailed screening)

 For a single screening session, up to four grids may be screened.
 Once the grids are dropped off, the user will be entered into the Glacios queue. If the queue is long, the user may apply for independence on the F20. The user will need to have prior side-entry holder experience.
The user will receive an email when their session has started. About three to five squares will be screened per grid, depending on screening type, and one grid will be selected for an overnight queue, if desired. If the user is not responsive, the operator will queue the grid of their choosing.
3. 

SEMC

operations – assistance with sample preparation and screening (Fast Track process)
SEMC

staff on a limited basis will be able to help users with sample preparation and screening. Users may reserve this category of access if they have minimal resources to do so or are new to cryoEM.
Chameleon sessions are currently placed on a queue due to limited staffing and resources.
Potential users should email emg [at] nysbc.org to set up a project meeting and begin the process.
Chameleon access queue

Email emg[at]nysbc.org with the Chameleon application found here: https://semc.nysbc.org/new-users/chameleon-access/
The user will receive an email informing them of their position in the queue.
Once it is the user's turn, the user will be asked to schedule a drop off. The project will be given a period of two weeks, starting on the drop-off day.
A staff member will prepare a few grids and screen them on the Glacios. The user will have access to this data.
The user will receive a summary detailing any information collected for their project. If the user is satisfied with the data, a total of four grids will be made for them. If the user is not satisfied with the data, they are welcome to re-enter the queue for the next available two-week slot.
4. On-site access
Access to the center will be by appointment. Users expecting to do work at the center will receive a safety orientation before being allowed to do their work. As we re-establish our training and testing program we primarily will only support independent users for now.
Any user that was certified independent pre-COVID-19 in March may request for time. New users or users that have not been certified independent may request

SEMC

 operational staff to assist with sample preparation as stated above in section 3.
For independent users that do not have easily have an opportunity to access cryoEM sample preparation and/or screening at their home institution, they will be able to book equipment at the center. All users will eventually have this opportunity but we are focusing on institutions that have a critical need at this time. If you have been certified by SEMC for independent use of an instrument as of July 2020, then you may email emg [at] nysbc.org .

SEMC

is designating Tuesdays and Thursdays in half-day sessions (morning and afternoon) for affiliate users to use the negative-stain bench and our dehumidified room with plunge freezers. Given our DH room's size, only 1 user can safely be in that room and we will be booking that "room" so the Vitrobot or Leica cannot be used at the same time. After we normalize operations we'll allow these areas/instrumentation to be bookable by users themselves through our scheduler (PPMS). We plan to open up more days in the week for the sample preparation devices and our screening microscopes as soon as possible. Note, all bookings are actually considered requests. Not until your reservation is green in PPMS is approved, which is done Wednesday afternoon the week before. If you have not received confirmation, then email emg [at] nysbc.org for clarification.
We would recommend 1 experienced user be the main cryoEM lead per laboratory. In the first phase, all EM done at the center should be funneled through that point person to make the most efficient use of the resources available at this time.
5. Cancellations

Users must cancel their session 1-business day in advance otherwise they will be put on probation.
Given the high demand at this time, if a user cancels their session a second time less than 1-business day in advance, then their reservation privileges may be temporarily suspended. Users with extenuating circumstances may arrange for a meeting for an appeal.
6. New users and certification of independence
Current users that have not completed annual user re-certification that want to do work on-site may schedule an appointment ahead of their approved instrumentation use for re-certification.

New users that have been approved for on-site work should first sign up for a virtual new user orientation session. After completion, there will be an additional on-site orientation ahead of being qualified to do work.
New users that are dropping off samples or signed up for remote instrument sessions during the pandemic, this orientation requirement is waived assuming no on-site work is being done. When the center resumes full on-site operations these new users will be required to attend standard new user orientation.

SEMC

is establishing procedures for virtual/remote training. Users that are not currently independent and would like to qualify for independence a reference from the affiliate institution will be required before requesting a test for independence. We envision that this reference would primarily be from an institution's cryoEM facility manger. For users to pass they must demonstrate proficiency.
To schedule for a certification test you may email emg [at] nysbc.org .
F20 certification of independence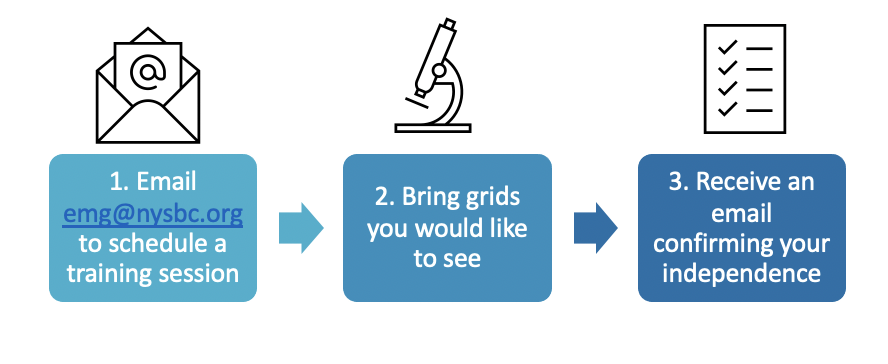 Users with prior side-holder entry experience may email emg[at]nysbc.org to schedule a training session on the F20. The session will be from 9AM to 5PM. Please arrive on time or email if there is any issue.
The user is welcome to bring their own grids to screen.
The staff member will guide the user, if needed, through the basic usage of the F20. The goal is for the user to be able to use the microscope independently. Based on the user's performance, the staff member will email a conformation of independence or if there is need for a follow-up session.
7. Failure to comply with SEMC policies or NYSBC COVID-19 safety policies

Users will be put on probation for the first offense and instructed on the policy in question by a staff member.
Users committing an offense a second time will be asked to leave the premises and their reservation privileges may be suspended for up to 2 weeks. Users with extenuating circumstances may arrange for a meeting for an appeal.